About Us
Everest Spice is a Indian takeaway in Plymouth. Why don't you try our Achari or Chana Masala?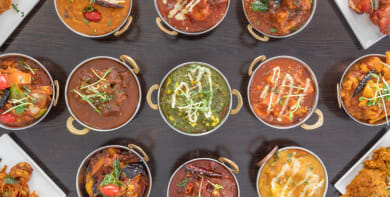 Reviews
93 reviews
James
"Great food, delivered on time. I'd highly recommend!"
29/05/2020
Kai
"Great food as always, glad your back open ⭐"
22/05/2020
Hannah
"Byriani was hot and flavorful. Quick delivery arrived on time. Smooth delivery with no fuss. Lovely food and will definitely be ordering again!"
22/05/2020
Kai
"Always amazing and the foods really tasty !"
27/02/2020
Menu
Tarka Daal Side
Yellow lentil cooked with herbs, garlic & curry leaves
£3.95
Tarka Daal Main
Yellow lentil cooked with herbs, garlic & curry leaves
£6.95
Daal Makhani Side
Black lentil cooked with tomatoes, ginger & garlic with cream
£3.95
Daal Makhani Main
Black lentil cooked with tomatoes, ginger & garlic with cream
£6.95
Bombay Aloo Side
Potato cooked with tomato sauce
£3.95
Bombay Aloo Main
Potato cooked with tomato sauce
£6.95
Saag Bhaji Side
Fresh spinach cooked with herbs & spices
£3.95
Saag Bhaji Main
Fresh spinach cooked with herbs & spices
£6.95
Saag Paneer Side
Cottage cheese cooked with spinach in ginger, onion & tomato sauce
£3.95
Saag Paneer Main
Cottage cheese cooked with spinach in ginger, onion & tomato sauce
£6.95
Muttar Paneer Side
Cottage cheese cooked with green peas
£3.95
Muttar Paneer Main
Cottage cheese cooked with green peas
£6.95
Chana Masala Side
Chickpeas cooked with onion, tomato & chaat masala
£3.95
Chana Masala Main
Chickpeas cooked with onion, tomato & chaat masala
£6.95
Egg Bhuna Side
Boiled eggs cooked with rich onion & tomato sauce
£3.95
Egg Bhuna Main
Boiled eggs cooked with rich onion & tomato sauce
£6.95
Mixed Vegetable Side
Cooked with seasonal mixed vegetables
£3.95
Mixed Vegetable Main
Cooked with seasonal mixed vegetables
£6.95
Mushroom Bhaji Side
Mushroom cooked with herbs in tomato sauce
£3.95
Mushroom Bhaji Main
Mushroom cooked with herbs in tomato sauce
£6.95
Gobi Bhaji Side
Stir fry potatoes & cauliflower cooked with herbs & spices
£3.95
Gobi Bhaji Main
Stir fry potatoes & cauliflower cooked with herbs & spices
£6.95
Aloo Gobi Side
Stir fry potatoes & cauliflower cooked with herbs & spices
£3.95
Aloo Gobi Main
Stir fry potatoes & cauliflower cooked with herbs & spices
£6.95
Vegetable Korma Side
Cooked with coconut & creamy mild sauce
£3.95
Vegetable Korma Main
Cooked with coconut & creamy mild sauce
£6.95
Saag Aloo Side
Fresh spinach & potato cooked with herbs & spices
£3.95
Saag Aloo Main
Fresh spinach & potato cooked with herbs & spices
£6.95
Nepalese Butter Chicken
Chicken breast marinated in yoghurt, tomato sauce & fenugreek leaves
Mild
£8.95
Everest King Prawn
Cooked with garlic & coconut milk in exotic Everest special sauce
Mild
£10.95
Kathmandu Chicken
Spiced curry cooked with rich coconut milk, spring onion & fresh curry leaves
Med-hot
£8.95
Kathmandu Lamb
Spiced curry cooked with rich coconut milk, spring onion & fresh curry leaves
Med-hot
£8.95
Pudina Chicken
Tender lamb or chicken cooked with fresh mint, green chilli, curry leaves & spices
Hot
£8.95
Pudina Lamb
Tender lamb or chicken cooked with fresh mint, green chilli, curry leaves & spices
Hot
£8.95
Nepali Chilli Chicken
Chicken breast marinated with corn flour & black pepper
Stir fry cooked with capsicum, onion & green chilli
Hot
Dry
£8.95
Honey Hunter Chicken Tikka
Chicken or lamb tikka cooked in mild sauce, fresh coriander & honey
Mild
£8.95
Honey Hunter Lamb Tikka
Chicken or lamb tikka cooked in mild sauce, fresh coriander & honey
Mild
£8.95
Everest Special Curry
Combination of king prawn, prawn, chicken & lamb tikka cooked with fresh herbs
Medium
£10.95
Momo Vegetable
Minced lamb or vegetables mixed with typical Nepali spices wrapped in homemade pastry then steam cooked & served with Nepali chutney
£8.95
Momo Lamb
Minced lamb or vegetables mixed with typical Nepali spices wrapped in homemade pastry then steam cooked & served with Nepali chutney
£8.95
Kathmandu Duck
Diced duck breast cooked with ginger, in an authentic Nepali style
Medium
£8.95
Everest Chilli Chicken
Marinated chicken or lamb in a delicately spiced sauce of tomatoes, butter, capsicum, green chilli & onion
Hot
£8.95
Everest Chilli Lamb
Marinated chicken or lamb in a delicately spiced sauce of tomatoes, butter, capsicum, green chilli & onion
Hot
£8.95
Sherpa Khasi
Sliced lamb cooked in authentic Nepalese herbs, spring onion, pepper & green chilli
Hot
£8.95
Pokhareli Chicken
Chicken or lamb cooked with curry leaves & Nepalese herbs
Medium
£8.95
Pokhareli Lamb
Chicken or lamb cooked with curry leaves & Nepalese herbs
Medium
£8.95
Momo Lamb
Mixed with typical Nepali sauce, steamed then served with Nepali chutney & salad
£3.95
Aloo Chop
Potatoes battered with flour, herbs & spices, deep fried, served with pickles & salad
£3.95
Momo Vegetable
Mixed with typical Nepali sauce, steamed then served with Nepali chutney & salad
£3.95
Chilli Paneer
Diced paneer cooked with green chilli, red & green pepper, onion
Spicy
£3.95
Chicken Pakora
Sliced chicken marinated with Nepali spices deep fried in gram flour
£3.95
Nepali Choila Chicken
Chicken or lamb marinated with garlic, ginger & green chilli with special Nepalese spices
£3.95
Nepali Choila Lamb
Chicken or lamb marinated with garlic, ginger & green chilli with special Nepalese spices
£3.95
Tandoori Chicken Main
Chicken on the bone marinated with fresh spices & herbs then cooked in a clay oven
£7.95
Tikka Main Lamb
Diced chicken or lamb marinated in herbs & spices, cooked in clay oven
£7.95
Tikka Main Chicken
Diced chicken or lamb marinated in herbs & spices, cooked in clay oven
£7.95
Tandoori Mixed Grill
Mixture of chicken & lamb tikka, tandoori chicken, seekh kebab, served with plain naan & salad
£11.95
Shashlik Chicken
Marinated chicken or lamb with tomato, green & red pepper, onion, cooked in clay oven
£9.95
Shashlik Lamb
Marinated chicken or lamb with tomato, green & red pepper, onion, cooked in clay oven
£9.95
Chicken Nuggets, Chips & Peas
£5.95
Special Rice
With peas & eggs
£2.95
Jeera Rice
With cumin seeds
£2.95
Keema Rice
With minced lamb
£3.50
Tikka Masala Chicken
Chicken or lamb tikka cooked with cream, butter & almond powder
Mild
£8.95
Tikka Masala Lamb
Chicken or lamb tikka cooked with cream, butter & almond powder
Mild
£8.95
Korma Chicken
Chicken or lamb cooked with cream, butter & coconut powder
Mild
£8.95
Korma Lamb
Chicken or lamb cooked with cream, butter & coconut powder
Mild
£8.95
Pasanda Chicken
Marinated chicken or lamb cooked with butter, cream & red wine
Mild
£8.95
Pasanda Lamb
Marinated chicken or lamb cooked with butter, cream & red wine
Mild
£8.95
Tikka Bhuna Chicken
Cooked with onion, tomato & herbs
Medium
£8.95
Tikka Bhuna Lamb
Cooked with onion, tomato & herbs
Medium
£8.95
Korai Chicken
Cooked with diced onion, pepper & tomato in special spices
Medium
£8.95
Korai Lamb
Cooked with diced onion, pepper & tomato in special spices
Medium
£8.95
Jalfrezi Chicken
Cooked with sliced onion, tomato, pepper fresh herbs & green chilli
Hot
£8.95
Jalfrezi Lamb
Cooked with sliced onion, tomato, pepper fresh herbs & green chilli
Hot
£8.95
Saag Chicken
Cooked with ginger, spices & fresh spinach
Medium
£8.95
Saag Lamb
Cooked with ginger, spices & fresh spinach
Medium
£8.95
Garlic Chilli Chicken
Cooked with fresh garlic & green chilli
Hot
£8.95
Garlic Chilli Lamb
Cooked with fresh garlic & green chilli
Hot
£8.95
Tandoori King Prawn Masala
Cooked with Everest special sauce
Mild
£12.95
Balti Chicken
Cooked with chopped onion & pepper in balti sauce
£8.95
Balti Lamb
Cooked with chopped onion & pepper in balti sauce
£8.95
Shai Akbari Chicken
Chicken tikka cooked with onion, herbs & tomato
Medium
£8.95
Set Meal for One
1 Poppadom with chutney
Onion bhaji OR samosa
Chicken tikka masala OR chicken jalfrezi
Bombay aloo
Pilau rice
Naan
£17.95
Set Meal for Two
2 Poppadom with chutney
Chicken tikka
Onion bhaji
Honey hunter chicken OR lamb
Everest chilli chicken
Tarka daal
Saag aloo
2 pilau rice
Naan
£31.95
Onion Bhaji
Sliced onions mixed with spices & gram flour - deep fried
£2.95
Samosa Vegetable
Spiced & stuffed in thin pastry
£2.95
Samosa Lamb
Spiced & stuffed in thin pastry
£2.95
Tikka Starter Chicken
Diced chicken or lamb marinated in herbs & spices, cooked in clay oven
£3.95
Tikka Starter Lamb
Diced chicken or lamb marinated in herbs & spices, cooked in clay oven
£3.95
Seekh Kebab
Minced lamb with onions, herbs & spices cooked in a clay oven
£3.95
Mixed Platter
Chicken tikka, lamb tikka, samosa, onion bhaji, seekh kebab
£6.95
Prawn Cocktail
Cooked prawn marinated with cocktail sauce & salad
£4.50
Crispy Chilli Chicken
Cooked with garlic, chilli, peppers & special herbs (hot)
£3.95
Tandoori Chicken Starter
Chicken on the bone marinated with fresh spices & herbs then cooked in a clay oven
£3.95
Contact Us
Find Us
14 Atheneaum Street The Hoe, Plymouth, PL12RH
We deliver to
PL1, PL2, PL3, PL4