About Us
Everest Spice is a Indian takeaway in Plymouth. Why don't you try our Achari or Chana Masala?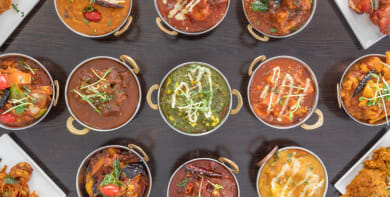 Reviews
142 reviews
Ms
"The food arrived in good time, and was piping hot. Unfortunately, our rice wasn't in the delivery, but this was rectified quite quickly. We enjoyed our meal, and would order again."
17/07/2021
Paolo
"Always great food and friendly service :)"
16/07/2021
Stephen
"Superb"
19/06/2021
Jodie
"Great flavours and quick delivery. Earlier than predicted 👍"
18/05/2021
Menu
Onion Bhaji
Sliced onions mixed with spices & gram flour - deep fried
£2.95
Samosa Lamb
Spiced & stuffed in thin pastry
£2.95
Samosa Vegetable
Spiced & stuffed in thin pastry
£2.95
Tikka Starter Chicken
Diced chicken or lamb marinated in herbs & spices, cooked in clay oven
£3.95
Tikka Starter Lamb
Diced chicken or lamb marinated in herbs & spices, cooked in clay oven
£3.95
Seekh Kebab
Minced lamb with onions, herbs & spices cooked in a clay oven
£3.95
Mixed Platter
Chicken tikka, lamb tikka, samosa, onion bhaji, seekh kebab
£6.95
Crispy Chilli Chicken
Cooked with garlic, chilli, peppers & special herbs (hot)
£3.95
Tandoori Chicken Starter
Chicken on the bone marinated with fresh spices & herbs then cooked in a clay oven
£3.95
Aloo Chop
Potatoes battered with flour, herbs & spices, deep fried, served with pickles & salad
£3.95
Chilli Paneer
Diced paneer cooked with green chilli, red & green pepper, onion
Spicy
£3.95
Chicken Pakora
Sliced chicken marinated with Nepali spices deep fried in gram flour
£3.95
Nepali Choila Chicken
Chicken or lamb marinated with garlic, ginger & green chilli with special Nepalese spices
£3.95
Nepali Choila Lamb
Chicken or lamb marinated with garlic, ginger & green chilli with special Nepalese spices
£3.95
Tandoori Chicken Main
Chicken on the bone marinated with fresh spices & herbs then cooked in a clay oven
£7.95
Tikka Main Chicken
Diced chicken or lamb marinated in herbs & spices, cooked in clay oven
£7.95
Tikka Main Lamb
Diced chicken or lamb marinated in herbs & spices, cooked in clay oven
£7.95
Tandoori Mixed Grill
Mixture of chicken & lamb tikka, tandoori chicken, seekh kebab, served with plain naan & salad
£11.95
Shashlik Chicken
Marinated chicken or lamb with tomato, green & red pepper, onion, cooked in clay oven
£9.95
Shashlik Lamb
Marinated chicken or lamb with tomato, green & red pepper, onion, cooked in clay oven
£9.95
Tikka Masala Chicken
Chicken or lamb tikka cooked with cream, butter & almond powder
Mild
£8.95
Tikka Masala Lamb
Chicken or lamb tikka cooked with cream, butter & almond powder
Mild
£8.95
Korma Chicken
Chicken or lamb cooked with cream, butter & coconut powder
Mild
£8.95
Korma Lamb
Chicken or lamb cooked with cream, butter & coconut powder
Mild
£8.95
Pasanda Chicken
Marinated chicken or lamb cooked with butter, cream & red wine
Mild
£8.95
Pasanda Lamb
Marinated chicken or lamb cooked with butter, cream & red wine
Mild
£8.95
Tikka Bhuna Chicken
Cooked with onion, tomato & herbs
Medium
£8.95
Tikka Bhuna Lamb
Cooked with onion, tomato & herbs
Medium
£8.95
Korai Chicken
Cooked with diced onion, pepper & tomato in special spices
Medium
£8.95
Korai Lamb
Cooked with diced onion, pepper & tomato in special spices
Medium
£8.95
Jalfrezi Chicken
Cooked with sliced onion, tomato, pepper fresh herbs & green chilli
Hot
£8.95
Jalfrezi Lamb
Cooked with sliced onion, tomato, pepper fresh herbs & green chilli
Hot
£8.95
Saag Chicken
Cooked with ginger, spices & fresh spinach
Medium
£8.95
Saag Lamb
Cooked with ginger, spices & fresh spinach
Medium
£8.95
Garlic Chilli Chicken
Cooked with fresh garlic & green chilli
Hot
£8.95
Garlic Chilli Lamb
Cooked with fresh garlic & green chilli
Hot
£8.95
Tandoori King Prawn Masala
Cooked with Everest special sauce
Mild
£12.95
Balti Chicken
Cooked with chopped onion & pepper in balti sauce
£8.95
Balti Lamb
Cooked with chopped onion & pepper in balti sauce
£8.95
Shai Akbari Chicken
Chicken tikka cooked with onion, herbs & tomato
Medium
£8.95
Nepalese Butter Chicken
Chicken breast marinated in yoghurt, tomato sauce & fenugreek leaves
Mild
£8.95
Everest King Prawn
Cooked with garlic & coconut milk in exotic Everest special sauce
Mild
£10.95
Kathmandu Chicken
Spiced curry cooked with rich coconut milk, spring onion & fresh curry leaves
Med-hot
£8.95
Kathmandu Lamb
Spiced curry cooked with rich coconut milk, spring onion & fresh curry leaves
Med-hot
£8.95
Pudina Chicken
Tender lamb or chicken cooked with fresh mint, green chilli, curry leaves & spices
Hot
£8.95
Pudina Lamb
Tender lamb or chicken cooked with fresh mint, green chilli, curry leaves & spices
Hot
£8.95
Nepali Chilli Chicken
Chicken breast marinated with corn flour & black pepper
Stir fry cooked with capsicum, onion & green chilli
Hot
Dry
£8.95
Honey Hunter Chicken Tikka
Chicken or lamb tikka cooked in mild sauce, fresh coriander & honey
Mild
£8.95
Honey Hunter Lamb Tikka
Chicken or lamb tikka cooked in mild sauce, fresh coriander & honey
Mild
£8.95
Everest Special Curry
Combination of king prawn, prawn, chicken & lamb tikka cooked with fresh herbs
Medium
£10.95
Kathmandu Duck
Diced duck breast cooked with ginger, in an authentic Nepali style
Medium
£8.95
Everest Chilli Chicken
Marinated chicken or lamb in a delicately spiced sauce of tomatoes, butter, capsicum, green chilli & onion
Hot
£8.95
Everest Chilli Lamb
Marinated chicken or lamb in a delicately spiced sauce of tomatoes, butter, capsicum, green chilli & onion
Hot
£8.95
Sherpa Khasi
Sliced lamb cooked in authentic Nepalese herbs, spring onion, pepper & green chilli
Hot
£8.95
Pokhareli Chicken
Chicken or lamb cooked with curry leaves & Nepalese herbs
Medium
£8.95
Pokhareli Lamb
Chicken or lamb cooked with curry leaves & Nepalese herbs
Medium
£8.95
Tarka Daal Side
Yellow lentil cooked with herbs, garlic & curry leaves
£3.95
Tarka Daal Main
Yellow lentil cooked with herbs, garlic & curry leaves
£6.95
Daal Makhani Side
Black lentil cooked with tomatoes, ginger & garlic with cream
£3.95
Daal Makhani Main
Black lentil cooked with tomatoes, ginger & garlic with cream
£6.95
Bombay Aloo Side
Potato cooked with tomato sauce
£3.95
Bombay Aloo Main
Potato cooked with tomato sauce
£6.95
Saag Aloo Side
Fresh spinach & potato cooked with herbs & spices
£3.95
Saag Aloo Main
Fresh spinach & potato cooked with herbs & spices
£6.95
Saag Bhaji Side
Fresh spinach cooked with herbs & spices
£3.95
Saag Bhaji Main
Fresh spinach cooked with herbs & spices
£6.95
Saag Paneer Side
Cottage cheese cooked with spinach in ginger, onion & tomato sauce
£3.95
Saag Paneer Main
Cottage cheese cooked with spinach in ginger, onion & tomato sauce
£6.95
Muttar Paneer Side
Cottage cheese cooked with green peas
£3.95
Muttar Paneer Main
Cottage cheese cooked with green peas
£6.95
Chana Masala Side
Chickpeas cooked with onion, tomato & chaat masala
£3.95
Chana Masala Main
Chickpeas cooked with onion, tomato & chaat masala
£6.95
Egg Bhuna Side
Boiled eggs cooked with rich onion & tomato sauce
£3.95
Egg Bhuna Main
Boiled eggs cooked with rich onion & tomato sauce
£6.95
Mixed Vegetable Side
Cooked with seasonal mixed vegetables
£3.95
Mixed Vegetable Main
Cooked with seasonal mixed vegetables
£6.95
Mushroom Bhaji Side
Mushroom cooked with herbs in tomato sauce
£3.95
Mushroom Bhaji Main
Mushroom cooked with herbs in tomato sauce
£6.95
Aloo Gobi Side
Stir fry potatoes & cauliflower cooked with herbs & spices
£3.95
Aloo Gobi Main
Stir fry potatoes & cauliflower cooked with herbs & spices
£6.95
Gobi Bhaji Side
Stir fry potatoes & cauliflower cooked with herbs & spices
£3.95
Gobi Bhaji Main
Stir fry potatoes & cauliflower cooked with herbs & spices
£6.95
Vegetable Korma Side
Cooked with coconut & creamy mild sauce
£3.95
Vegetable Korma Main
Cooked with coconut & creamy mild sauce
£6.95
Special Rice
With peas & eggs
£2.95
Jeera Rice
With cumin seeds
£2.95
Keema Rice
With minced lamb
£3.50
Chicken Nuggets, Chips & Peas
£5.95
Set Meal for One
1 Poppadom with chutney
Onion bhaji OR samosa
Chicken tikka masala OR chicken jalfrezi
Bombay aloo
Pilau rice
Naan
£17.95
Set Meal for Two
2 Poppadom with chutney
Chicken tikka
Onion bhaji
Honey hunter chicken OR lamb
Everest chilli chicken
Tarka daal
Saag aloo
2 pilau rice
Naan
£31.95
Contact Us
Find Us
14 Atheneaum Street The Hoe, Plymouth, PL12RH
We deliver to
PL1, PL2, PL3, PL4